U.S. equities bounced around the unchanged line on Wednesday in volatile trading after the Federal Reserve, as expected, announced it would begin winding down its bloated $4.4 trillion balance sheet in October. This "quantitative tightening" will start off slowly, at just $10 billion a month, before increasing every three months to a $50 billion monthly pace.
The Fed, in what could be considered a hawkish outcome, also stuck to its expectation of another interest rate hike in December. In her post-announcement press conference, Federal Reserve Board Chair Janet Yellen admitted that the tepid behavior of inflation was puzzling, but maintained a focus on evidence of labor market tightness — something that historically has been a strong antecedent of wage-push inflation pressure.
In the end, the Dow Jones Industrial Average gained 0.2%, the S&P 500 added 0.1%, the Nasdaq Composite gave back 0.1% and the Russell 2000 finished the day 0.4% higher. Treasury bonds were mostly weaker, the dollar strengthened, gold gained 0.4% and oil added 1.6% following mixed inventory data.
What's more, breadth was positive, at 1.3 advancers to every decliner, while volume was in-line with the NYSE's 30-day average. Energy stocks led the way with a 0.7% gain while consumer staples and utilities were the laggards, down 0.9% and 0.8%, respectively.
Alnylam Pharma (NASDAQ:ALNY) surged nearly 52% after announcing positive results from a phase 3 study, reminding everyone of the lottery ticket nature of development biotech stocks. American Airlines Group Inc (NASDAQ:AAL) gained 2.3% thanks to an upgrade by Raymond James analysts noting initiatives aimed at corporate and premium consumers is getting traction. And FedEx Corporation (NYSE:FDX) gained 2.1% after freight operating margins increased to their best level in three years.
On the downside, Best Bath & Beyond Inc., (NASDAQ:BBBY) fell 15.9% after second-quarter revenues and gross margins missed estimates on a deeper-than-expected comp-store sales decline. Forward earnings guidance was cut by roughly 25%, which wasn't well tolerated. General Mills, Inc. (NYSE:GIS) lost 5.8% after earnings per share missed estimates on a deeper-than-expected drop in organic sales.
And Apple Inc. (NASDAQ:AAPL) fell 1.7% after Rosenblatt analysts highlighted weak iPhone 8 preorders relative to the iPhone 6 and iPhone 7 as iPhone X orders don't start until Oct. 27. Separately, there were reports of Apple Watch Series 3 LTE cellular connectivity issues.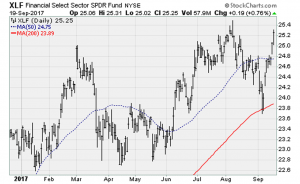 Click to Enlarge Bank stocks have been in the driver's seat in a big way in recent weeks as anticipation of quantitative tightening — as well as a general risk-on attitude — has weighed on bond prices and pushed up long-term yields. That's lifted net interest margin hopes and thus bank sector profitability expectations.
That's lifted net interest margin hopes and thus bank sector profitability expectations.
Of course, this misses the obvious: The Fed is about to finally start the process of reversing years of QE-based bond-buying stimulus that's been responsible for the smooth and easy nature of the bull market since 2012.
And also: Higher interest rates, should they continue, will dampen overall economic growth by weighing on credit creation and consumer confidence.
Conclusion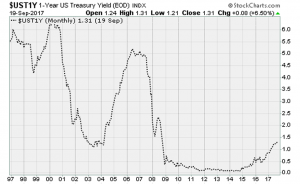 Click to Enlarge The short-term Treasury bond market is behaving as we would expect in this environment, pushing up to levels not seen since 2008 in anticipation of tighter monetary conditions and higher inflation — which is the outlook the Fed maintains.
Other markets, however, are acting like this is a policy mistake. Or that the Fed won't be able to stick to its guns on its rate-hike expectations into 2018 and 2019.
You can see this in the way the yield curve actually flattened as long-term Treasury bonds failed to decline as one would expect. Bank stocks didn't seem to care, however, as the market's Teflon sentiment remains intact.
Keep an eye on the weakness in big-cap tech stocks, however, as they could force investors to reevaluate their enthusiasm.
Today's Trading Landscape
To see a list of the companies reporting earnings today, click here.
For a list of this week's economic reports due out, click here.
Anthony Mirhaydari is the founder of Edge (ETFs) and Edge Pro (Options) investment advisory newsletters. Free two- and four-week trial offers have been extended to InvestorPlace readers.