It is a very common tactic for investors to put their money alongside those of the great people in the field. This is one reason why Warren Buffett's Berkshire Hathaway (BRK.B) remains a popular investment to this day. In fact, I have something of a fondness for this strategy myself as I published an article to this site last year suggesting an investment alongside the legendary Rothschild banking family. In this article, I will discuss a way to invest alongside another family that has managed to preserve and grow their wealth for more than two centuries. That family is Sweden's Wallenberg family, who manage a considerable portion of their wealth through a company known as Investor AB (OTCPK:IVSXF).
About the Wallenberg Family and Investor AB
The Wallenberg family is one of the wealthiest and most prominent in Sweden. The family is widely considered to have been founded by Jakob Persson Wallberg (1699-1758) during his second marriage, the descendants of which called themselves Wallenberg. In 1856, one of Jakob's descendants, Andr茅 Oscar Wallenberg, founded the predecessor to Skandinaviska Enskilda Banken AB (OTC:SVKAF), one of the largest financial services companies in Scandinavia.
For several years, the bank also served as the manager for the family's wealth, but in 1916, the Swedish government implemented a new policy that made it difficult for banks to own shares of industrial companies. In response, the family formed Investor AB as a vehicle to manage the family's assets outside of the bank.
Today, Investor AB remains under the control of the Wallenberg family through their foundation asset management company FAM; however, the company does have a separate class of equity shares that are publicly traded which allow ordinary investors to put their money alongside that of the family. Investor AB is a considerable part of the Swedish economy as it owns controlling stakes in several large Swedish firms along with smaller stakes in numerous other companies.
The Portfolio
Investor AB's portfolio is divided up into three primary areas. These are listed core investments, EQT and Patricia Industries. Of these, the listed core investments portion is by far the largest and easiest to understand as it consists exclusively of investments in publicly traded companies.
As just mentioned, Investor's listed core investments make up approximately 78% of its portfolio, by far the largest portion. This collection of stock holdings consists almost exclusively of large Swedish companies, although a few such as Nasdaq Inc. (NDAQ) and W盲rtsil盲 (OTCPK:WRTBF) are not.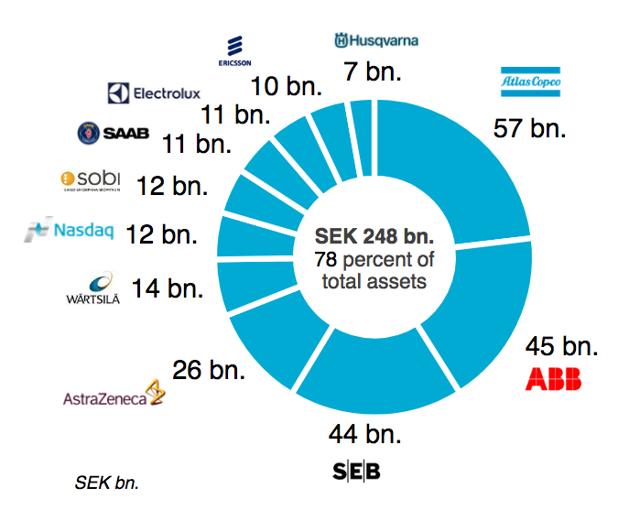 Source: Investor AB
As this chart shows, Investor AB's listed core investments consist of eleven different companies with a total investment value of SEK 248 billion ($30.32 billion). The considerable size of these investments thus makes the company a significant minority owner in all of these firms, which could give it a significant voice in corporate decisions, should it choose to take that route. Also, it is important to note that not only are these all almost exclusively Swedish companies, but also the industries in which each investment is in:

Source: Author
One of the first things that you will certainly note upon reviewing this list is that a significant percentage of this portion of the portfolio is invested in industrial manufacturing companies. In fact, seven of these eleven companies are manufacturers of some kind. This may seem somewhat surprising to North American investors given that much of the manufacturing that used to be done in the United States (or to a lesser extent Canada) is now being done in the developing world. This is not the case in Europe however as many companies do still perform manufacturing at home but the focus of the manufacturing is on high technology and high margin products. The companies in Europe have largely offshored the production of low margin products to cheaper locales.
Another thing to notice is the distinct lack of any highflying technology stocks, which are a feature in the portfolios of many American investors. I view this as a benefit as many stocks of this type tend to be highly volatile and can just as easily deliver large losses as they can gains. Thus, this is a somewhat more conservative portfolio than most growth-oriented ones but it is also less likely to be highly volatile and conducive to long-term wealth preservation.
One thing that I noticed when evaluating this portfolio is the distinct absence of some notable Swedish companies that I would have expected to see in a portfolio meant to preserve wealth such as TeliaSonera (OTCPK:TLSNF), a large Swedish-Finnish telecommunications company, or Volvo AB (OTCPK:VOLAF), the second largest manufacturer of trucks in the world. Granted, an investor that wants to benefit from these companies could always buy them directly but still, the absence is notable. Other than the absence of a few companies such as these, the portfolio does provide a relatively good cross-section of the Swedish economy.
In addition to its core investments, Investor AB also allocates a relatively small (approximately 5%) portion of its portfolio to alternative assets such as private equity, real estate, and credit. It does this by investing in various funds on its EQT Platform. There are nine such funds managed by the company representing a total of 21.056 billion ($25.26 billion) in assets.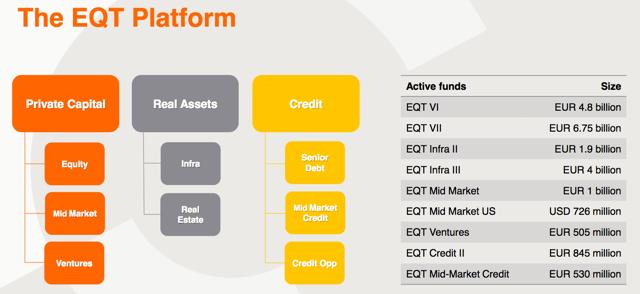 Source: Investor AB
These funds do not limit their investments to Sweden, instead investing actively all over Europe and even the United States. As is often the case with private equity, these funds are quite opaque with their investments but typically either invest in private companies or take over public or private companies with the intent of selling them off years later for a substantial gain. As is the case with venture capital, private equity is often a high-risk high-reward type of investing.
It is worth noting that not all of these funds are invested in such risky activities. As noted above, several of them are invested in real estate or numerous types of credit provision. These two types of activities are considerably less risky, but also do not result in the same potential rewards that a private equity investment can.
Potential investors should not worry about the possible losses from Investor's EQT investments. Historically these funds have generated positive returns for the company and overall Investor only has a relatively small amount of its capital at risk so even in the event that one of these funds blows up, Investor's total losses will be minimal compared to the size of the overall portfolio.
The final subdivision of Investor's portfolio is something known as Patricia Industries. This is essentially a group of eight companies in which Investor has sufficient ownership in which to be able to consider them subsidiaries. Here are the companies: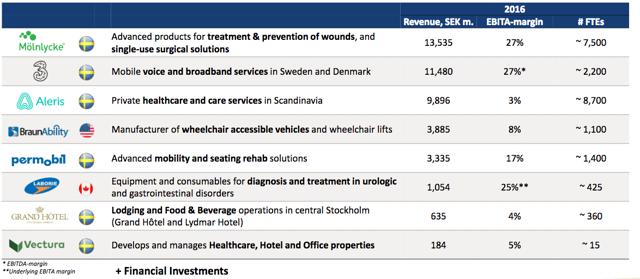 Source: Investor AB
One of the things that will undoubtedly be noticed is that six of these eight companies are based in Sweden. That appears to go along with Investor's overall strategy of keeping most of its investment portfolio in its home country. However, not all of these are Swedish companies and one, BraunAbility, is based in the United States. Thus, this division of the company is truly international even if most of it is Sweden-based.
In my last article on Investor AB, I noted that the company has been taking a very active interest in healthcare and we do certainly see that here. Of these eight companies, five are in the healthcare industry, four of which are involved in the production of medical devices. This is certainly not a bad industry to be in. As I discussed in a recent article, the populations of the developed world are aging and Europe is several years ahead of the United States in this regard. This points to a growing demand for healthcare products going forward.
This segment of Investor's portfolio has delivered solid performance historically, with all eight companies posting growth in 2016: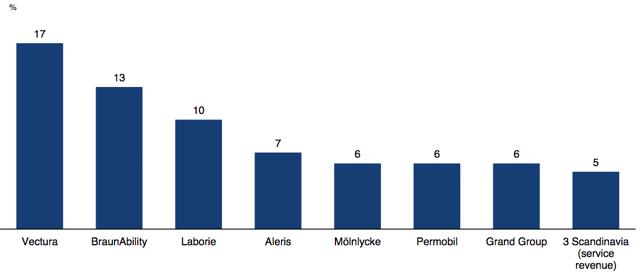 Source: Investor AB
Patricia Industries serves largely as the growth allocation in Investor's portfolio. It is the company's intention to continue to develop these companies going forward and possibly add more companies in order to derive further growth.
Pricing
As investors, we want to make sure that we acquire an asset at an appropriate price to ensure good returns. For a company like this, it is best to view it largely as a closed-end fund and value it appropriately. In this case, that means that we want to purchase it for less than its net asset value. Investopedia defines net asset value thusly,
"Net asset value (NAV) is value per share of a mutual fund or an exchange-traded fund (ETF) on a specific date or time. With both security types, the per-share dollar amount of the fund is based on the total value of all the securities in its portfolio, any liabilities the fund has, and the number of fund shares outstanding."
In the case of a closed-end fund, the net asset value is calculated the same way. The net asset value is simply the market value of the fund's portfolio less any outstanding debt. The net asset value per share is simply this value divided by the number of shares outstanding. Ideally, we want to purchase the shares for less than this value.
At the end of the third quarter of 2017 (the latest quarter for which figures were available), Investor AB had a total net asset value of SEK 285.857 billion ($34.94 billion). As of the same date, the company had a total of 767.175 million shares outstanding. This gives the company a net asset value of SEK 372.61 ($45.55) per outstanding share. As of the date of writing, shares of Investor AB trade for SEK 394.20 ($48.19) on the Stockholm exchange, meaning that the company is currently trading at a 5.79% premium to net asset value. Investors would thus be advised to wait until the stock price declines to below the net asset value per share before making a purchase.
There are a few different ways to invest in Investor AB, including by purchasing the shares over-the-counter in the United States. The best way to purchase the shares is to obtain them on the stock exchange in Stockholm, however. This is due to the fact that the shares are much more liquid there and so it is easier to obtain shares without having a significant impact on the price or lacking sufficient depth to quickly dispose of the shares as needed.
Conclusion
In conclusion, Investor AB offers a very interesting way to invest in the Swedish economy. Its large holdings of several large Swedish blue chips offer conservative exposure to an array of different businesses while its private equity investments and Patricia Industries offer growth potential. There is also some peace-of-mind in knowing that you are investing right alongside one of the most prominent and wealthiest families in Sweden. The company's shares are perhaps a little too pricey right now however so it would be wise to wait for a pullback.
Disclosure: I/we have no positions in any stocks mentioned, and no plans to initiate any positions within the next 72 hours.
I wrote this article myself, and it expresses my own opinions. I am not receiving compensation for it (other than from Seeking Alpha). I have no business relationship with any company whose stock is mentioned in this article.
Editor's Note: This article discusses one or more securities that do not trade on a major U.S. exchange. Please be aware of the risks associated with these stocks.
About this article:ExpandAuthor payment: Seeking Alpha pays for exclusive articles. Payment calculations are based on a combination of coverage area, popularity and quality.Tagged: Investing Ideas, Long Ideas, Financial, Diversified Investments, SwedenWant to share your opinion on this article? Add a comment.Disagree with this article? Submit your own.To report a factual error in this article, click here