While the excitement in Gilead Sciences (NASDAQ:GILD), a growth biopharma (focusing on the innovation and commercialization of drugs to treat infectious diseases and cancers), has been centered around Yescarta (a novel CAR-T; recently US FDA approved for the treatment of non-Hodgkin lymphoma), there is another powerful catalyst to power upcoming growth. Accordingly, the company disclosed in its third-quarter filling that the China FDA has approved Sovaldi for the treatment of Hepatitis C virus (HCV) infection in adults and teens (age 12 to 18 years), who have the genotype 1, 2, 3, 4, 5, or 6 as a component of the antiviral therapy regimen. Notably, Sovaldi is the first Gilead HCV med approved in China.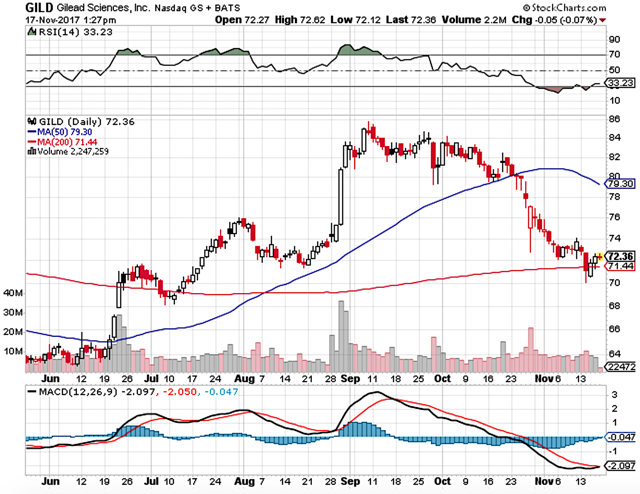 Source: StockCharts
Why is the China approval significant? Well, Gilead's shares have been beaten up for the past two years due to declining sales of Hepatitis C drugs (Sovaldi and Harvoni) worldwide. For the nine-month period ending in Sept. 30, 2017, Harvoni sales registered at $3.7B versus $7.4B for the similar period a year prior. In addition, Sovaldi revenues came in at $847M compared to $3.47B for the similar periods of comparison. Back in 2015, the aforesaid franchises reached the $25B annual peak sales. Of note, the declining sales are mostly due to the fact that these stellar drugs work superbly (that they started to consummate their market). In other words, patients who took these medicines got their Hepatitis C cured rather than simply symptomatic management, thus reducing the demand for the drugs.
Now youre thinking Gilead has great hepatitis drugs that deliver cures but its sales have been shrinking because people who took them no longer need them. Then, the company is pushing the stellar medicine to a country with the largest population in the world. And, the question, will sales be significant? Lets analyze the statistics.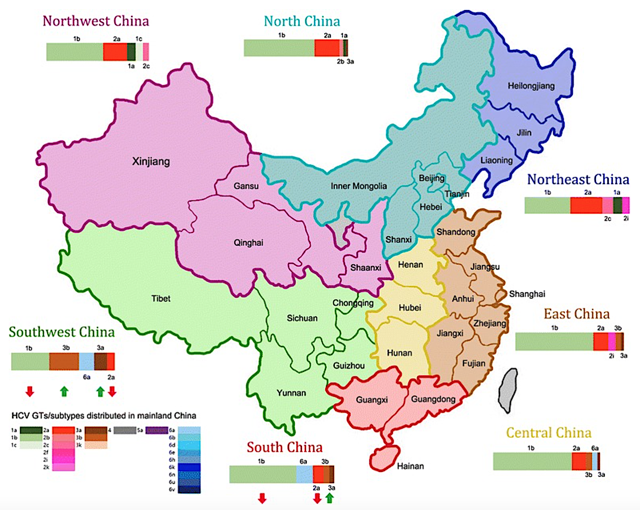 Source: Map of HCV Genotypes In China
Accordingly, research shows that there are 130M to 150M people worldwide (2% to 3% of the global population) with chronic HCV infection. Notably, China has a lower percentage of its population infected with HCV compared to the overall world population (in specific, 0.06% based on the statistics). In taking that percentage out of the total China population (i.e. 1,382,323,332 based on 2016 consensus), we arrived at roughly 840K Chinese having HCV.
So how do these statistics translate in terms of sales for Gilead's Hepatitis C franchises? Lets exercise our arithmetics further. As follows, when Sovaldi/Harvoni procured the $25B peak sales out of about 150M HCV cases in 2015, what will happen when Sovaldi now taps into 840K patients? The calculations revealed $1.5B (as the potential peak sales for the China market). In adding that figure to our $5.7B (Sovaldi/Harvoni combined sales estimate for 2017), we can expect the Hepatitis C revenues to ramp up in the next few years to the $7.2B potential peak sales.
You may be wondering, what about other promising development in the HCV franchises? That being said, if we take into account the anti-HCV drug, Epclusa (newly approved in 2016), with estimated 2017 sales of $4B, that should bring our total peak sales estimate to over $11.2B for total hepatitis products revenues, i.e. $7.2B + $4B.
Of note, our estimates are rather conservative because Epclusa's worldwide sales are increasing. Furthermore, Gilead reported that the FDA recently approved the expanded labeling for Epclusa (the first all-oral, pan-genotypic, once-daily single-table regimen) for the treatment of HCV infection to include for patients co-infected with HIV.
Furthermore, both the EU and FDA also approved Vosevi (a once-daily single-tablet) for HCV genotype 1-6. It is the first and only single-tablet regimen for patients who have previously failed therapy with direct-acting antiviral (DAA) treatments and is the latest regimen in Gileads portfolio of sofosbuvir-based HCV DAA treatments.
Put all these developments together, it is not far from the truth that sales for the firms hepatitis products will ramp up substantially in the coming years.
Potential Risks
The key risk for the Hepatitis franchise of Gilead is whether sales will turn out as we forecasted. Despite that the firm has the robust sales and marketing team (and has years of experience in launching its highly successful Hepatitis C drugs), there is still the small chance that the China market wont be as receptive to Sovaldi as it has been worldwide.
Final Remarks
HCV is now a global pandemic (the fourth most commonly reported infectious disease in China). With the recent approval of Sovaldi by the China FDA, we anticipate the next wave of gargantuan growth to reemerge in Gileads HCV products franchise. This potential growth is also most likely to ramp up by the increasing sales of 2016 approved Epclusa (its recent expanded label) as well as the recent approval of Vosevi.
Gilead would fit into the fortunate because they are able. The stellar management (saw that the US hepatitis sales are stagnating or rather receding) and they immediately pushed for solutions. First, they realized the vast market in China (where hepatitis C is most prevalent) and theyre pushing for the firms antivirals to be marketed overseas. More importantly, this management also seized the stellar unlocked value in the CAR-T franchises that Kite Pharma is brewing. Accordingly, the acquisition of Kite for $11.9B can be argued as expensive by some investors. While the buyout might be pricey, Gileads $11B purchase of Pharmasset indeed brought in the $25B peak sales in 2015.
As we stated in our prior research (and further support in this piece), Gilead's management is fortunate because it is capable. Investors who bought after the robust earnings (and share price increase) may be experiencing a bitter taste. Notwithstanding, the good days are ahead for shareholders, as the management is pushing for the growth of existing products (especially via the vast China market). We believe that the first knock-out punch will be coming from the hepatitis products franchise (within the year or sooner). Thereafter, the firm will most likely enjoy sustained and significant growth with the highly powerful CAR-T cancer treatment platform.
Authors Notes: If you enjoy our coverage thus far, please click on the yellow button. Make sure to subscribe to our marketplace service, Integrated BioSci Investing for in-depth consulting and key market moving catalysts.
Disclosure: I/we have no positions in any stocks mentioned, and no plans to initiate any positions within the next 72 hours.
I wrote this article myself, and it expresses my own opinions. I am not receiving compensation for it (other than from Seeking Alpha). I have no business relationship with any company whose stock is mentioned in this article.
About this article:ExpandAuthor payment: $35 + $0.01/page view. Authors of PRO articles receive a minimum guaranteed payment of $150-500.Tagged: Investing Ideas, Long Ideas, Healthcare, BiotechnologyWant to share your opinion on this article? Add a comment.Disagree with this article? Submit your own.To report a factual error in this article, click here