Is the EV Revolution About To Ignite?
I'm skeptical that the world is on the cusp of an EV revolution.
Despite cost reductions, batteries are still far too expensive. There remains a considerable cost difference between an electrical vehicle and a comparably equipped vehicle powered by an internal combustion engine.
Moreover, batteries lack the energy density of fossil fuels. A given volume of gasoline will power a vehicle much longer and further than a given volume of battery.
The impetus for EVs is largely driven by governmental coercion. That coercion takes several forms: Mandates (examples in the U.S. include the ZEV credit regime adopted by 10 states, and federal GHG and CAFE standards), tax credits, tax abatements, and HOV stickers. (If you don't think tax credits are governmental coercion, imagine what would happen to the taxpayer who withheld some of his income tax payment on the theory that he did not want to subsidize his neighbor's Model X.)
But government coercion has its limits. Some countries already have determined the EV subsidies are too costly (resulting in an immediate collapse of demand). In the U.S., there is a manufacturer-by-manufacturer limit to the federal income tax credit that EV buyers can claim, and there is no sign that any new subsidy will replace the old one once it is exhausted.
Moreover, consumers still most obviously prefer ICE vehicles. In 2017, EV sales will account for only one-fifth of one percent of total motor vehicle sales worldwide.
For these reasons, I believe Tesla's (NASDAQ:TSLA) business model is flawed. It relies heavily on governmental coercion, and while there will always be some of it, there just isn't enough to make Tesla profitable. In the U.S., for example, despite enjoying lavish federal and state subsidies, Tesla has lost money, and the losses are likely to become more acute next year as the entitlement of Tesla buyers to the federal income tax credit begins to phase out.
But What if I Am Wrong?
What if, however, I'm wrong? What if there are technological breakthroughs that lower the cost and improve the energy density of batteries? What if consumer preference for EVs grows or political pressure for EV subsidies increases?
What if, in short, an EV revolution is about to well and truly catch fire?
Well, even if that's the case, Tesla is doomed. And, it is doomed by several egregiously bad management decisions by its CEO (and former "Product Architect") Elon Musk. The decisions are so terrible that any one of them would have led to the firing of the CEO at any company not controlled by the CEO.
Musk's Four Blunders
Let's review the biggest blunders. This list comes from one of the brightest lights at Seeking Alpha, Contributor Technology Equity Strategies. I happen to agree with each item, and TES gave me permission to expand on them here.
Blunder 1: The Model X's Falcon Wing Doors
In the "secret master plan," Tesla was to move from the Roadster to the Model S to the mass market car. Musk, however, decided to insert the Model X into the scheme.
That could have been an excellent decision. At the time Tesla announced the Model X, the market for SUVs was growing. When the car finally went into production, the SUV market was red hot.
Alas, Musk fell in love early on with the gimmicky, expensive falcon wing doors. He promoted them as giving the Model X all the luxury of a sedan, all the utility of an SUV, and all the ease of entry of a minivan.
In fact, though, the falcon wing doors added to the time and expense of developing the car. They eliminated its ability to mount a roof rack. They have proved endlessly unreliable, and have added significantly to Tesla's already alarmingly high warranty costs.
The slow rollout, high price, and well-publicized reliability problems of the Model X meant that Tesla was unable to capitalize on the great SUV surge. Tesla was able to convert into sales only about 30% of its more than 40,000 Model X reservations. Since introducing the car, it has been forced to slash prices and add value.
The car has been a terrible money loser and cash bleed, and with its warranty issues is likely to be a festering sore for years after Tesla stops selling it.
Blunder 2: Choosing a Sedan as the Mass Market Car
At a time when consumers were craving SUVs and CUVs, Musk plowed ahead with his determination to make Tesla's mass market car – the great Shangri-La of the "secret master plan" – a sedan. Worse, a small sedan.
I believe Tesla is about to discover that the actual appetite for a very expensive small sedan is quite limited. Tesla may already realize this, as it has factory capacity to build (if everything goes perfectly) only 250,000 Model 3 cars per year. It does not appear to be planning any additional factory capacity for the Model 3.
Imagine if, instead of plowing ahead the Model 3, Tesla had assayed market demand for SUVs and CUVs (which was fully apparent four years ago), and built a crossover along the lines of the Nissan Rogue. The Tesla CUV would have all the utility of the Chevy Bolt (and, yes, the Bolt has more utility than the Model 3), and the higher driving position customers want, but with the design flair and brand magic of Tesla.
Yes, Tesla is planning a Model Y. At very best, it's three years away. Assuming Tesla finds the billions of dollars required to continue developing it and purchasing the facilities and equipment necessary to produce it.
By the time the Model Y rolls out (if ever), the market will be awash with EVs, including attractive CUVs such as the Hyundai Kona, the Audi e-tron Sportback, the Volvo SPA V60, and a Nissan Crossover.
Blunder 3: Cutting Corners on the Model 3
Every other automaker subjects all new parts to an intensive production parts approval process (the so-called PPAP). Every other automaker requires an extensive production line validation process for new production equipment. Every other automaker conducts a year or so of beta testing, in all climates and conditions, with professional beta testers, for a year or so.
But not Tesla. Because Elon Musk knew better. This disaster is only starting to unfold. Tesla now has hundreds of Model 3s stacking up in parking lots at Fremont and elsewhere. Why? Almost surely because the cars are still lacking something. They are unfit for sale.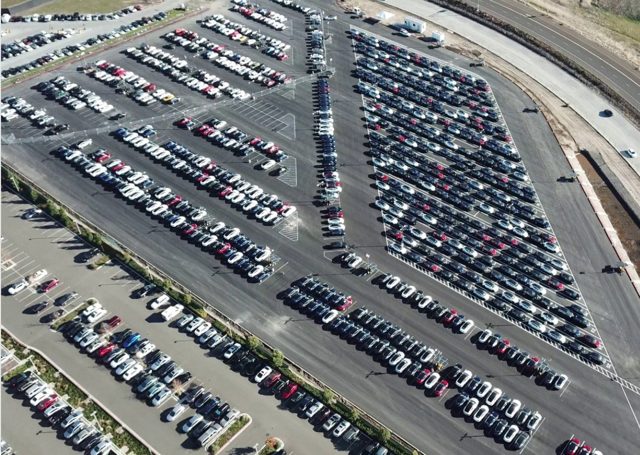 (Bertel Schmitt twitter feed)
Take a look at the first non-employee Model 3 delivery.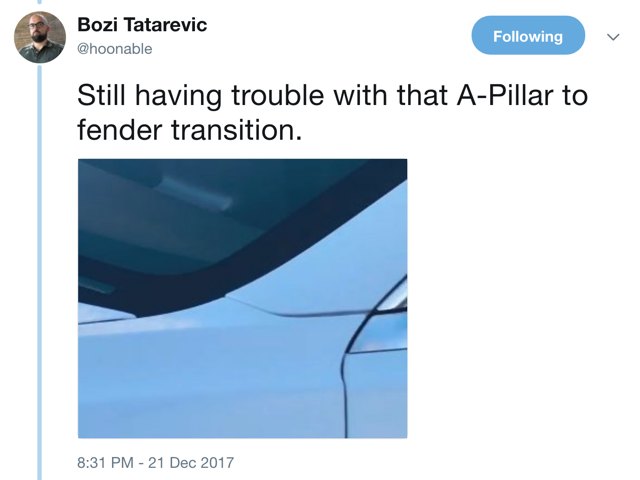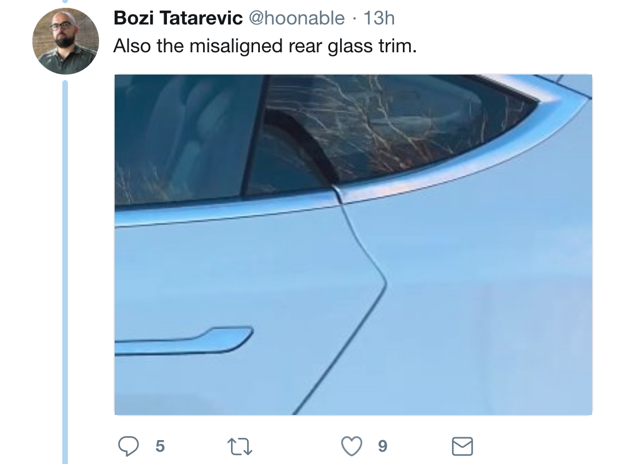 (Thank you, Bozi Taterivic; your twitter feed is magnificent.)
The problems are likely to be far more than cosmetic by the time the Model 3s begin to rack up some mileage. The Model 3 warranty costs may well make those of the Model X seem like a bargain.
Blunder 4: The Gigafactory
Tesla could quite easily have continued to source its cells from Asia. Imagine for a moment that Elon Musk had decided to build the Gigafactory in China. Tesla would now be welcomed with open arms there, instead of being all but shut out as a host of competitors grab market share in the world's largest (thanks to governmental mandates) EV market.
Instead, Musk decided the factory should be in Nevada, where Tesla and Panasonic have difficulty finding skilled employees. And where the electrical service is erratic, causing production headaches.
While the decision about where to locate the factory was boneheaded, the decision to build it at all is even more dubious. The Gigafactory locks Tesla in to a single battery architecture – the cylindrical cell, with its thousands of circuitry connections – while other EV makers are employing the simpler prismatic cells.
And the Gigafactory changes the relationship between Tesla and Panasonic. Instead of Panasonic being one among several potential cell suppliers, dancing to Tesla's tune, the underlying agreements effectively make Panasonic the master and Tesla the servant.
So, on behalf of others who are short Tesla, I say, thank you very much, Mr. Musk.
Are There More Big Blunders?
Are there more big blunders? Feel free to weigh in with your own candidates in the comments. And, of course, don't be shy about disagreeing with me on the list I've put together with TES.
Seeking Alpha Member Out For Now has his own candidate for a fifth blunder: the Model 3 dashboard, with its touchscreen mounted in the minimalist middle. I know from other comments that others here agree with Out For Now.
Tesla fans regard the Model 3 dash as bold and revolutionary, and that it most assuredly is. But it also seems awkward and potentially dangerous. In other words, once again the Musk vision is leading the company to a brave new world in which the firm's future rides on a radical and untested concept.
It will be interesting to watch how real-world drivers react to this setup. I'm guessing that, as with most new things, some will love it and others will find it off-putting. How that mix breaks down will be the key.
Happy Holidays
It's most certainly going to be a white Christmas in Montana. As I write this, the snow lies deep on the ground, and more is falling.
Bull or bear, Montana Skeptic wishes you the happiest of holidays and a fruitful and fulfilling 2018.
Disclosure: I am/we are short TSLA.
I wrote this article myself, and it expresses my own opinions. I am not receiving compensation for it (other than from Seeking Alpha). I have no business relationship with any company whose stock is mentioned in this article.
Additional disclosure: I am short TSLA via long-dated options
About this article:ExpandAuthor payment: $35 + $0.01/page view. Authors of PRO articles receive a minimum guaranteed payment of $150-500.Tagged: Investing Ideas, Short Ideas, Consumer Goods, Auto Manufacturers – MajorWant to share your opinion on this article? Add a comment.Disagree with this article? Submit your own.To report a factual error in this article, click here